We offer the ability to stream from your laptop, tablet, or mobile device. You may broadcast from your web browser (standard to HD quality, Volume-built audio effects), or RTMP software such as OBS, Larix, or StreamLabs (HD+ quality, more customizable settings and effects).
Web Browser Broadcasting
Our built-in broadcasting tool is available directly in your browser window and offers standard to HD video quality. To use, visit https://volume.com/b/, select your webcam, and click Start Broadcasting.
With just a USB microphone or a simple interface setup, you have the ability to broadcast live to Volume. Using the in-browser broadcaster, you have access to six different in-browser audio effects and seven tools under the "Audio Effects" tab.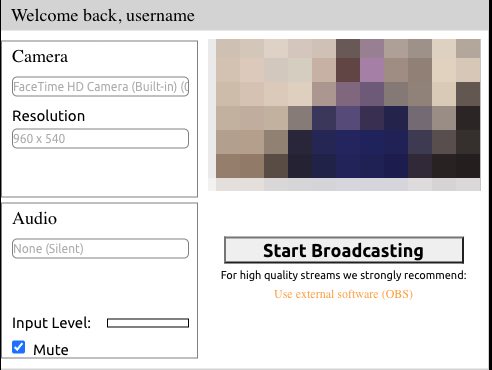 Please check out our In-Browser Effects Guide for additional information about the Audio Effects tab.
Mobile Device Broadcasting
If you plan to use your mobile device for broadcasting, you have a couple of options for your video setup and the option to use iRig for a more robust audio setup as well.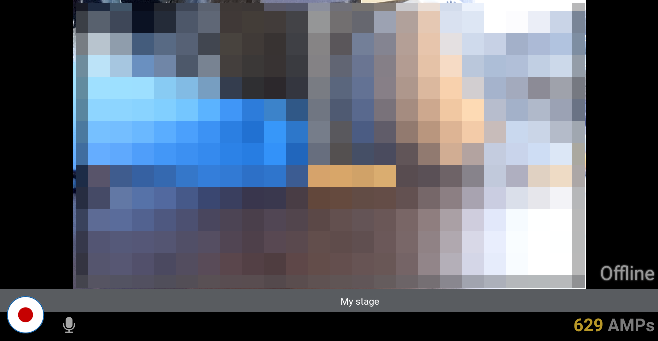 You can also broadcast to Volume by just using your mobile device and its internal microphone. Using an external interface like iRig allows you to customize your mobile broadcasting experience by adding XLR inputs for microphones and line inputs for instruments.
Please see our detailed setup guides for Larix and Streamlabs, two mobile broadcasting encoders.
OBS/RTMP Broadcasting
For the highest quality broadcast and the most configuration options, we recommend using OBS Studio or another external encoder application. To connect your audio setup to OBS, you can either use sound forwarding software or a capture card.
If you are just looking to set up OBS without any additional audio configuration, please check out our OBS setup guide.
OBS with sound forwarding software from DAW
Sound forwarding software such as Soundflower (Mac) and the OBS ASIO VST (Windows) are required in order to forward the sound from your DAW to OBS.
On Windows, OBS offers an ASIO VST plugin that makes sound forwarding simple. Please check out our detailed guide on the OBS ASIO VST plugin setup.
On Mac, you will need to download a third party sound forwarding driver. For Mac OS versions 10.9 and up, we recommend Blackhole. Please check out our guide on Using a DAW with OBS on Mac for setting Blackhole up.
OBS & Capture Card
A capture card is an internal and external video capture device that encodes your desktop video and audio. Like a webcam, a capture card may be added to OBS as a Video Capture Device.
Other External Encoder Options
You can use any External Encoder to stream on Volume, as long as you are able to set up a custom RTMP stream. If you prefer to use another external encoder, you can find information for how to set up your stream in our RTMP info support guide. Some examples of other popular external encoders are: