Getting Paid
We currently offer the following convenient payment methods:
Direct Deposit (USA only)
PayPal (Countries supported by PayPal)
Stripe (

Currently available for the following countries: Australia, Austria, Belgium, Bulgaria, Canada, Cyprus, Czech Republic, Denmark, Estonia, Finland, France, Germany, Greece, Hong Kong SAR China, Hungary, Ireland, Italy, Japan, Latvia, Lithuania, Luxembourg, Malta, Netherlands, New Zealand, Norway, Poland, Portugal, Romania, Singapore, Slovakia, Slovenia, Spain, Sweden, Switzerland, United Kingdom, United States)
Be aware that there is a minimum amount required to get a payout. The minimum for ACH is $50.00 and Stripe is $10.00. If you do not earn the minimum amount required within a pay period, your balance will roll over into the next pay period until the minimum is achieved.

Payment periods are from the (1st-15th) and (16th-31st) of each month.

Payments are sent within 7 days of the period ending:
Earnings from the 1st - 15th of each month will be sent in the 1st pay period of the month. Payment will be sent within 7 days so if you've earned a payout in this period, it will be sent out by the 22nd. If you have selected Stripe, please note that processing time may take 1-7 business days.

Earnings from the 16th - 31st of each month will be sent in the 2nd pay period of the month. Payment will be sent within 7 days so if you've earned a payout in this period, it will be sent out by the 7th.

Common reasons you haven't received a payout include:

A payout was not generated: Sometimes artists believe they should have received a payment, however they have not earned the minimum payout, did not convert AMPs, or converted AMPs in the next pay period. If this is the case, you can still receive a payment the next period. Converted AMPs do not expire and the next pay period would be in less than two weeks.
Why does my account say my Stripe payout info was deactivated?
Occasionally Stripe may require additional information. If your Stripe account loses payable status for not providing additional verification, you will be unable to receive payments through that Stripe account. Please login to your Stripe account to provide the requested information.
Transferring AMPs to Cash
Amp Cash outs will require the user to complete the artist verification form and an ID verification in order to withdraw funds.
Step 1. Enter the Broadcast Page or "Go Live" tab and scroll down to the "AMP Stats" tab. Complete the Independent Artist Agreements. If the Independent Artist Agreement has been completed, please move on to the next step Upload/Verify Identity.

Step 2. Located at the bottom of the page, Artist verification will require you to Upload/Verify your identity. The items needed are a scanned photo of your legal ID such as a passport or Driver license and a photo of yourself with the ID.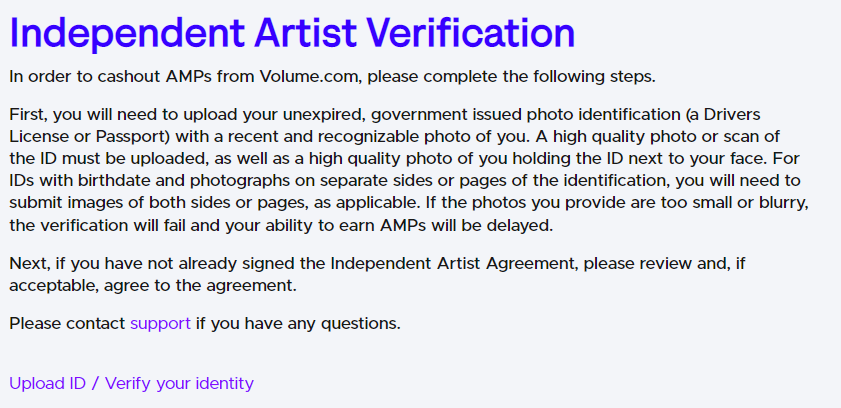 Step 3. As soon as the ID photos have been uploaded the user will receive a message stating the verification is pending.
Step 4. When the Identity Verification has been approved, an email notification will be sent out to the broadcaster.
Step 5. Return to the Broadcast page; select "AMP Stats" and scroll to the bottom of the page where a new link called "Transfer AMPs to cash" should appear. The user must enter into this link and specify how many amps they want to convert.

Step 6. Complete the Payment information. This will include the broadcasters personal info, contact info, tax info. payment info, acceptance of the terms and conditions, certification and signature. Payment info can be direct bank deposits (U.S.A Only), Paypal or Stripe.